Wine Estates
Main regions
CASTLE – Wine estates of 27.64 HA
Charming 17th century manor house.
UNDER OPTION THE MANOR
About 350 sqm fot this charming manor. Large interior stone staircase leads to two upper floors and varnished tiled roof, typical of Burgundy region. Ideal sized rooms with waxed wooden floors and marble fireplaces. Sitting room, dining room, 6 bedrooms, 3 bath/shower rooms and loft.
Front of property, with southerly aspect, hidden from view with wide esplanade overlooking surrounding countryside, framed by one-hundred-year-old trees and large, fortified walls. North of property screened by outbuildings and 15th century farm with courtyard.
THE OUTBUILDINGS
3 buildings north of the manor : 860 sqm with a garage, a former stable, a bread oven, a cellar…
VINEYARDS AND AGRICULTURAL LANDS
2 ha grounds and meadows, 3 ha of tenant farmed white Mâcon-Villages vineyards and 19 ha of leased arable land.
THE FARM
2 buildings of more than 875 sqm : a rented housing, an old housing, sheds, stalling…
Ref. n°
Characteristics of the property

20 min
from Mâcon TGV
Non-contractual elements given for information only
Related Posts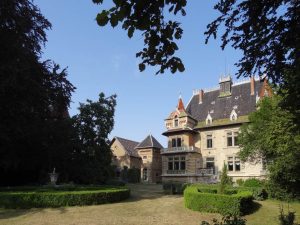 At 50 min from Lyon, 5 min from Macon TGV (Paris 1h35) and 1h30 from Genève airport, magnificent neogothic style castle.